EE Times rapporterar att Green Hills Software har fått sitt operativsystem Integrity certifierat enligt Common Criteria-nivån EAL 6+.
EAL6+ är den högsta EAL-nivån som hittills uppnåtts av ett operativsystem och är en innebär enligt Green Hills VS bland annat att:

EAL 4 means essentially you've documented the system, but no-one has looked at your source code and has not undergone any attempts to break into it," said Dan O'Dowd, founder and chief executive officer of Green Hills Software. "But when you go to

EAL6

+, it requires formal mathematical proof that the system is secure."

In this case, the government hired,"a bunch of Ph.Ds" to write formal proofs and evaluate the code and check code for correctness. "This is the first time anyone has proven that an operating system is secure," he said.

Att USAs försvar varit inblandat är tydligt. Enligt artikeln var det NSA som beställde certifieringen. Intressant nog är det dessutom (återigen enligt artikeln) organisationen National Information Assurance Partnership (NIAP), som certifierat Integrity, en organisation som drivs av… NSA.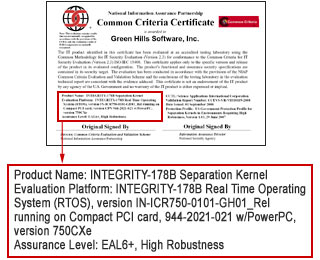 EAL6+-certifikatet för Integrity från NIAP.
Drivkraften bakom certifieringen är att säkerkt kunna köra flera applikationer på samma datorplattform. Artikeln förklarar:

Today, various levels of security are achieved using multiple computers on a desk—one for regular Internet access and others for security levels ranging from confidential to top secret. This results in up to four systems on a single desk, causing system cost, IT support costs, power consumption and desk space issues. Similarly, humvees in the field need multiple systems.

Det finns faktiskt utrustning certifierad enligt den högsta EAL-nivån, EAL-7. Närmare bestämt Tenix Data Diode Device, en LED-baserad transmissionsutrustning för att koppla samman nät över kortare avstånd. Så här ser den ut:
Det som inte klart framgår är hur mycket det kostade att certifiera Integrity enligt EAL-6+, men på Wikipedia finns en del skattningar för kostnader för lägre EAL-nivåer. I artikeln kan man dessutom utläsa att processen tog ungefär fyra år.
Vill du ha ett riktigt, riktigt säkert OS (eller en lysdiodburk) skall du kanske titta närmare på de här produkterna.
No related posts.
Related posts brought to you by Yet Another Related Posts Plugin.