På Macrumors kom det i dag en länk till en intressant presentation av FreeBSD-grundaren Jordan Hubbard (JKH), numera Director of UNIX Technology hos Apple, om utvecklingen av och säkerheten i Mac OS X. Jordans presentation innehåller en hel del information om de olika releaserna som kommit av OS:et, hur mekanismer som kodsignering, Sandboxing och andra skyddsmekanismer som introducerats.
Presentationen tar även upp lite om kommande mekanismer i Snow Leopard, speciellt stödet för GPU-accelererade beräkningar, multicore och OpenCL.
En detalj som uppmärksammades på Macrumors är att Jordans presentation ser ut att precisera när Mac OS X 10.6 – Snow Leopard kommer att släppas – första kvartalet 2009.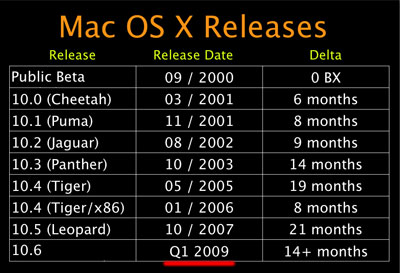 I en annan nyhet på Macrumors berättas det att det verkar som att Apple har integrerat stöd för DRM-systemet HDCP i de nya MacBook och MacBook Pro-modellerna som kom för några veckor sedan. Tydligen är det en användare som plötsligt fick upp en ruta om att han inte fick spela upp sin film på med syn nya laptop: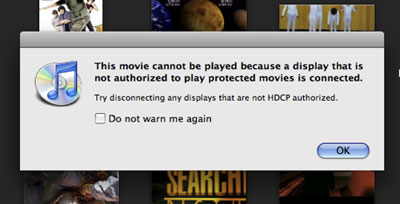 Tråkigt att se att Apple verkar ha valt att gå den här vägen.
No related posts.
Related posts brought to you by Yet Another Related Posts Plugin.