Jag sprang på en sida om QRB121, en slumptalsgenerator som säger sig vara baserad på kvantfysikaliska fenomen: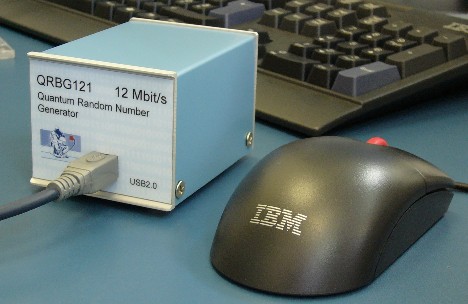 Enligt tillverkaren består entropikällan av en fotonkälla kapabel att avge enskilda fotoner samt en fotodetektor. Utifrån detektorn mäts sedan tiden mellan detekterade fotoner upp och används för att generera slumptalen ut från generatorn. Eller som tillverkaren själv förklarar det hela:

QRBG121 is a fast non-deterministic random bit (number) generator whose randomness relies on intrinsic randomness of the quantum physical process of photonic emission in semiconductors and subsequent detection by photoelectric effect. In this process photons are detected at random, one by one independently of each other. Timing information of detected photons is used to generate random binary digits – bits. The unique feature of this method is that it uses only one photon detector to produce both zeros and ones which results in a very small bias and high immunity to components variation and aging. Furthermore, detection of individual photons is made by a photomultiplier (PMT). Compared to solid state photon detectors the

PMT

's have drastically superior signal to noise performance and much lower probability of appearing of afterpulses which could be a source of unwanted correlations.

Because of their non-deterministic nature and near-to-maximal entropy, quantum random number generators are ideally suited for most critical applications such as cryptography, production of PIN and TAN numbers, simulations in industry or science, statistics research etc.

På webbsidan för QRB121 finns information om prestanda, testresultat från diehard-tester som utförts på slumptal genererade med modulen, och för att ladda ner exempelfiler med slumptal.
No related posts.
Related posts brought to you by Yet Another Related Posts Plugin.